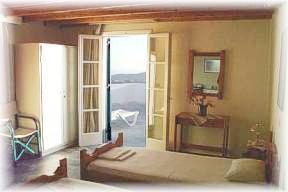 The Grand View complex in Santorini is built on the Caldera close to Megalohori. The Caldera is the west side of the island that presents the unique view of Santorini. The Grand View rooms are built right on the edge of the Caldera so the view is as breath taking as it is from an airplane. The volcano as well as Thirasia, Akrotiri, and the Perissa sea are visible from its balconies. The sunset is also as good as that seen from Oia and Fira. It is visible to that last moment when the sun becomes a tiny candlelight sinking in the waters of the Aegeon between Aspronisi and Thirasia.
The Grand View is about 3 kilometers away from the beaches and the sea port, and 4 kilometers from the airport. The main road and the bus line that connects Fira and Perissa passes by at only 100 meters from the large backyard of the Grand View which provides comfortable parking for guest cars.Traffic sounds do not reach Grand View; the only sounds that can be heard at its balconies are the water wave sounds far bellow and the sounds of the light breeze caressing the steep rocks of the Santorini Caldera below the Grand View.
The Santorini Grand View features 20 rooms each equipped with private bathroom, and refrigerator. Some rooms are also equipped with a small kitchen. Continuous hot water with good pressure is provider by electrically powered heatersin each room. No telephone exists in the rooms, however, the island has numerous public card phones.
The Grand View features a comfortable parking for the guest vehicles but guests can easily take the bus line to Emporio, Akrotiri, Perissa, and Fira.